The ageing population of Japan gives rise to many social and economic problems, but also to new business opportunities.
Many Japanese people live alone, their spouses dead and their children far away in other cities. The estimate is that more than 3 million elderly people lead solitary lives. Should something happen to them, it might take a while for someone to notice and send help. Zojirushi, a home applicance company, came up with a new service a few years ago: i-Pot.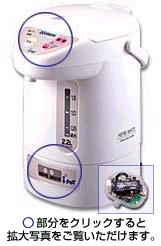 i-Pot (for "information pot") is a standard electric kettle, the kind that every home has, sitting in the kitchen and keeping water hot for a cup of tea or a bowl of miso soup. Except i-Pot also has a wireless communication device at the bottom that sends out a signal to a server that in turn periodically sends out an email to a designated internet address. Thus, the recipient can keep track of the i-Pot usage. Put differently: let's check our email and see if grandma woke up this morning to make a cup of tea? The service costs $30 a month, plus a $50 deposit on the kettle.

Apparently, the idea for this invention came up following a notorious case back in the mid-90s, when a 77-year-old woman and her 41-year-old disabled son were found in their Tokyo apartment three weeks after they died of starvation. Zojirushi, together with Fujitsu and NTT, developed the i-Pot to help prevent such tragedies from happening again. Today, more than 2,000 families use i-Pot to help them track the well-being of their loved ones.