This week is Golden Week in Japan, so named for the fortunate grouping of four national holidays together – Greenery Day, Constitution Day, National Day and Children's Day - giving the week its auspicious name. We took advantage of this golden opportunity, so to speak, and joined throngs of Japanese vacationers on a 3-day trip to the Tohoku region in the northern part of Honshu, the main island of Japan.
Day 1 – Hiraizumi and Ichinoseki
We left Tokyo on the north-bound bullet train, the Tohoku Shinkansen. Two and half hours later we got off at Ichinoseki, a small city in Iwate prefecture. The plan was to drop our bags in a station locker and connect 20 minutes later to a local train that would take us to the town of Hiraizumi. Unsurprisingly, all the lockers at the station were taken and we had to search for lockers outside the station, resulting in a last-minute dash to catch the train. Normally, I would avoid unnecessary exercise when on vacation, but the next train was almost an hour later…
Hiraizumi is a small peaceful town that used to be of some importance in the 11th and 12th centuries, when it was ruled by the Fujiwara family. They built several temples and dwellings but then fell out with the shogun of the time, Minamoto Yorimoto, who got very angry and practically razed Hiraizumi to the ground. Indeed, when one walks around the grounds of the temples today, all that is left are signs explaining which building used to stand at which spot and a few foundations here and there. Not very impressive.
From Hiraizumi train station we walked to Motsuji temple. A block away from the station we heard someone call out our names; it was an Israeli couple from Tokyo we know, who are also touring this area. We were supposed to meet up with them in Morioka City in the evening, so meeting them like this in Hiraizumi was somewhat of a surprise… After the appropriate polite exchanges, we continued on to Motsuji.
This formerly large temple is mostly known today for its expansive garden with a big pond in the middle. Apparently, it is a special garden, categorized as a Pure Garden, a Buddhist concept of designing paradise-like gardens. To me, it looked pretty standard; much like many other parks in Japan.
Motsuji Temple, Hiraizumi
A short taxi ride away is the most famous temple in Hiraizumi: Chusonji. Actually, it is a collection of temples of varying sizes and shapes, strung along a mountain road which, at this time of year, was unsurprisingly packed with people. Of the original 300 buildings or so that made up Chusonji, only around 20 remain standing today. We walked along the road, popping into the various temples. Shortly after 2pm, while we were purchasing some ice cream, we heard drums and hurried over with everyone to watch a group of masked old ladies perform some ancient dance, accompanied by an octogenarian drummer. The children were mesmerised by the performance.
Dance at Chusonji Temple, Hiraizumi
To head back to the station we hailed a taxi. Strangely enough, it was the same driver that took us from Motsuji to Chusonji.
We took the train back to Ichinoseki and walked to the local river to have a bite to eat; we found a yakimo (sweet potato) vendor right by the river, which was fortunate. Several groups of Japanese were having a picnic and the flags they put up indicated they belonged to labour organizations, so apparently they were celebrating May Day. While eating we suddenly heard a choir singing; we turned around and saw a group of male singers accompanied only by a guitar singing some local songs. They were pretty good and seemed to be content to move around the picnic area and sing to different groups of people only to be rewarded by clapping and ample amounts of sake for free.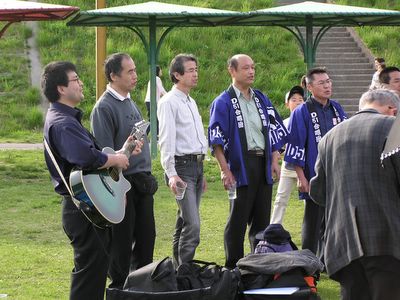 Singing by the river, Ichinoseki
Back at Ichinoseki station we boarded the shinkansen again, north to Morioka City, the biggest city in Iwate prefecture, where we were going to spend the night. While walking from Morioka station to the hotel, my son noticed a Tully's coffee shop (a Japanese Starbucks-wannabe) and remarked wryly: "fancy that, a Tully's; now that's a good start". A whole day in the countryside with no coffee shops, he finally reached what for him is a mark of civilization. Such an urban child…
Our hotel, a 2-minute walk from the station, belongs to a new chain of the so-called "business hotels", catering mostly to business people and offering decent lodgings for a relatively low rate. During the holiday season, these hotels are very popular with tourists, mainly because of their convenient locations (near train stations) and their affordable prices. After showering and changing clothes we met up with our Israeli friends and trekked together to the only Starbucks in town, across the river; after a week-long abstention due to Pessach, we were eager for our dose of caffeine and hot chocolate.
Day 2 – Kakunodate and Tazawako
We got up around 8am to check the breakfast offered by the hotel. Turned out to be a buffet of miso soup, two types of onigiri (rice cakes) and coffee; not much help for us…
Around 10am we took the west-bound Akita Shinkansen to Kakunodate, less than an hour away in Akita prefecture. Because the cherry trees blossom in this area of Japan only in late April or early May, Kakunodate during Golden week is a powerful magnet for tourists. They flock to the area by train, bus and car to see the local sakura matsuri (cherry blossom festival). The city, a former castle town well-known for its preserved samurai district, turns almost totally white during this season. Aside from the "standard" somei yoshino variety of cherry trees, seen throughout Japan, this area is mostly known for the shidezakura variety, the so-called "weeping cherry trees", with branches hanging down almost to the ground.
Weeping Sakura, Kakunodate
From the train station we walked for about half an hour to the old samurai district. Along one street are several old houses and mansions, some of which are open to the public and exhibit the way of life of the samurai. We walked along the street and took a look at some of the houses. We also tried what seemed to be a local specialty: rice on a stick, dipped in miso sauce and cooked for a couple of minutes on a charcoal grill. Beats the hell out of those grilled fish on sticks, a standard fare for any fair in Japan.
On the walk back to the station we walked along the Hinokinai river, where several hundred cherry trees provided the perfect background for hundreds of hanami ("flower watching") picnics. Fortunately, despite the forecasted rain, we had a rather pleasant weather.
Hinokinai River, Kakunodate
Back at Kakunodate station we boarded the train again for a short ride to Tazawako station, at which we took a bus to Tazawako lake. The guide books say this lake is a popular spot for vacationers, but when we got there it was practically deserted. On the beach, the kids bounced up and down on a trampoline and their cries of joy echoed around the empty shores. The lady selling the tickets for the boat rides in the lake looked royally bored. Perhaps at this late hour (around 3pm) everyone was away at the onsen, enjoying a nice dip before dinner.
The ride back to Morioka City was uneventful. Back to our hotel (and a visit to Starbucks, needless to say) on our 2nd and final night.
Day 3 – Morioka City
Got up a bit later today, to check out and take a walk around Morioka City. First we walked around a shopping district not far from the hotel, but it was evidently too early (10am) for the shops to open. So we headed towards the main attraction of the city: Morioka Castle. This castle dates back to the early 17th century, but it was destroyed during the Meiji Restoration period and today all that remains are the huge stone walls that used to surround it. Here too many people were enjoying their hanami picnics under the cherry trees, although the blossom here was almost all gone.
We continued past the castle into the main business district. A distinctive building turned out to be the Bank of Iwate, looking oddly out of place with its European-style facade. We continued on to another of Morioka's famous sites and a national treasure: the Rock-Splitting Cherry tree. This tree sprouted from a crack in a giant granite boulder, splitting the rock neatly in the middle as it grew. The sign said the tree is 300-400 years old and today it sits in the yard of the Morioka Court of Justice building.
Splitting Rock Cherry Tree, Morioka
On our way back to the station we walked through the main shopping area, a pedestrian mall which this time turned out to be rather lively. During our stroll we noticed a handful of gaijin; we noticed them because up until now we had seen no Western faces during this trip.
At 1:40pm we boarded the shinkansen back to Tokyo, "tired but content" as the saying goes.